History of Maratha Cooperative Bank
Maratha Bank was established in the year 1942 and has completed 72 Glorious years. In the year 1942 for fulfillment of the needs like Business, Education, house construction etc of Bahujan Samaj there was a requirement of financial institution. Looking at the requirement under the leadership and guidance of Editor in Chief of Rashtraveer Late Shree Shamrao Desai called upon meeting of leaders of Bahujan Samaj at Rangubhai Palace and decided to start The Maratha Cooperative credit society at Pangul Galli in rented small place. At that time with only 104 members and initial capital of Rs3500 the society started functioning. Shri Late Nigojirao Misal was elected as first chairperson.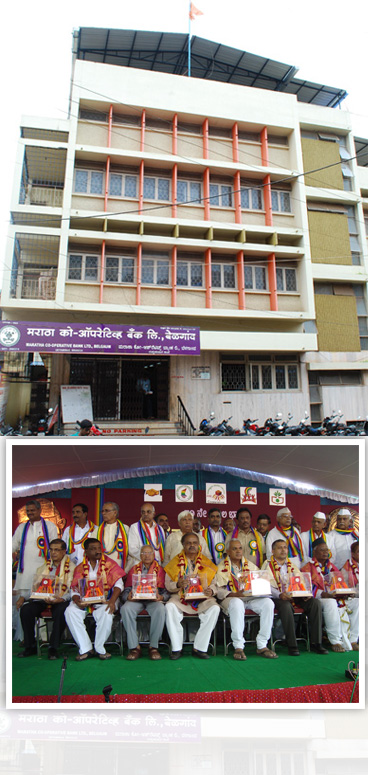 In the year 1946 Late Shri Gajananrao Bhatkande took the charge as chairperson and realizing the need to convert society into a bank by increasing the share capital to required limit in the year 1948 the society was converted into bank. This was turning point in the working of the Maratha Bank and it started flourishing and prospering at rapid growth rate. In the year 1959 Bank purchased building at Nargundkar bhave chowk for Rs 68000 and started operations in its own premises. After a span of 16 years in 1977 the then board decided to purchase and construct fully equipped building at Suntankarwada baswan galli Belgaum which was purchased for just Rs 39000. Within a span of 3 years the main building at baswan galli was constructed with best available technology and architecture. In this period senior directors Late Shri Arjunrao Ghorpade, Late Shri Shivajirao Kakatkar, Late Shri Balkrishna Bhatkande, Director Shri Arjunrao Hishobkar , Shri Sadashivrao Hangirgekar and others took efforts in the completion of construction.
Maratha Bank is the prestige of Bahujan Samaj of Belgaum city and surrounding villages. In the success of Maratha Bank the contribution of Bahujan Samaj is unforgettable but the contribution of other section of society has also been notable without which the bank would not have reached such heights.
Maratha Bank has completed Silver Jubilee, Golden Jubilee and is reaching towards Platinium Jubilee celebrations. Maratha Bank has been honored and felicitated by distinguished personalities like Shri Sharadraoji Pawar Ex Cabinet Agriculture Minister of India, Shri Annasaheb Shinde, Shri Vasantadada Patil, Shri Balasaheb Desai, Shri N D Patil, Shri Ranjeet Desai, Shri Sushilkumar Shinde, Shri A B Jaknoor, Shri Yeshwantrao Chavan, Shri Babasaheb Purandare, Shri Shankarrao Chavan, Respected Judge Shri Kolse Patil, Shri Ajit Seth, Shri Mallikarjun Kharge, Late Shri Vilasrao Deshmukh, Shri Babasaheb Kupekar, Shri Digvijay Khanvilkar, Shri Ujwal Nikkametc have praised Maratha Bank for the empowerment and financial inclusion task under taken by the bank of various classes of the society in and around Belgaum.
In the year 2001, under the chairmanship of Late Shri Govindrao L Ashtekar Nargundkar Bhave Chouk construction work of new building was started and within two years the work was completed.
Maratha Bank is having 5 branches and will be shortly starting 6th branch at Shahapur. Bank is having 9152 members and Capital funds of Rs 2.37 crores, own funds to the extent of Rs 36.60 crores, total deposits of 87 crores, bank has invested in other banks and government securities amount totaling to Rs 49.37 crores, Banks Gross NPA is to the extent of 9.52% and Net NPA is 0%. For the financial year 2013-14 bank has made profit after tax of Rs 2.02 crores with Statutory Audit class A.
Bank is paying dividend of 15%. Out of member welfare fund old members are honored and scholarship are given to deserving students of the members.
Maratha Bank has been honoured with best cooperative bank by Karnataka Urban Banks Federation Bangalore at Gadag on 17th November 2012 under the chairmanship of Shri G T Devegouda and National Urban Bank federation chairman Shri H K Patil handed over the award.